The Vatic Pro is a pickleball paddle that has been getting a lot of hype in the pickleball community. Much like the XS XSPAK, it's a great budget option for a T-700 raw carbon fiber paddle that performs similarly and in some cases, better than premium $200+ pickleball paddles.
I decided to get my hands on a Vatic V7 and Vatic Flash (16mm and 14mm) to put it through various tests to see if it can compete against the major brands and if it's a paddle you should consider.
Let's dive into the review.
Also Check out: Complete list of the best paddles for 2023
Vatic Pro V7 Specs and Tech
Weight Range: 8.3-8.5 oz
Paddle Length: 16.5″
Paddle Width: 7.5″
Handle Length: 5.3″
Face Material: T-700 Raw Carbon Fiber
Core: Polymer
Thickness: 16mm
Grip Circumference: 4.25″
Shape: Elongated
My Personal Thoughts
The Vatic Pro V7 is a great control oriented thermoformed paddle at a great price point. If you are looking for an entry into thermoformed paddles you can't go wrong with trying a V7 because it is on the softer end of thermoformed paddles but provides plenty of pop and power compared to Gen 1 carbon fiber paddles. This paddle is fast at the net and provided great control on drops, rolls, and drives. I'd recommend this in the under $150 price range.
Overview
The big trend for paddles in 2023 has been T-700 carbon fiber with thermoforming, edge foam, and unibody construction.
Joola pioneered this disruption in the market last year with their Hyperion CFS, which had carbon fiber and edge foam but used traditional paddle-making methods, which led to poor durability. Now in 2023, we have brands like CRBN, Vatic, Legacy Pro, and SixZero producing great paddles with amazing spin and durable construction.
A slight break-in period exists if you haven't used a thermoformed pickleball paddle before. The paddle will start out very rigid, but after about a week, you'll notice that the paddle will begin to soften up.
Other thermoformed paddles have had issues with delamination, but the Vatic Pro V7 is heat-sealed over a long process and encased in more carbon fiber. However, over my time with it, I have noticed my (and other reader's) paddle have delaminated over time.
The T-700 raw carbon fiber face will change over time and improve. I've found that as the woven carbon fiber begins to fray, it gets easier to generate spin.
Vatic Pro V7 Pickleball Paddle Review
Spin
Obviously, the most crucial factor for generating spin is your technique, but if you have the technique, the Vatic V7 will help you generate more spin on the ball.
The spin is identical to $200+ CRBN paddles on the market. My serves were dropping and diving quickly, while my dinks, resets, and drops all were landing softly. I was able to really control the spin on work the ball off the paddle face with the V7. It performs just as well if not better, any premium raw carbon fiber face.
The V7 impressed me with the spin while feeling soft at the same time.
Control/Feel
This paddle is so well balanced for control. My dinks and drops were so easy to execute, and the overall playability was just so easy and consistent. The paddle face is forgiving and offers just enough pop without sacrificing control.
I saw a huge improvement in placement while using this paddle. Resets were a little tricky the first week while it was rigid, but after the paddle broke in and got softer, the resets nd hands battles got significantly easier.
The Vatic Pro V7 is one of the best control thermoformed paddles, so if that is your style you will enjoy this paddle.
For a paddle that's a little closer to an elongated shape, it plays like a standard-sized paddle in terms of stability and control. You feel the ball making contact with the paddle face, and you can easily adjust as needed based on the contact.
Power
The power from the Vatic V7 alone wasn't that impressive. However, the fact that this paddle had such an amazing balance of control, spin, and enough power was what was really impressive.
It wasn't nearly as springy as the Selkirk Power Air Invikta, but it was controlled power. I had no issues with put-away shots or drives and on top of that I had more control over the placement which made this paddle lethal on the courts.
The V7 won't make you feel like a power beast on the court like the Legacy Pro or the Joola Perseus. If power is the most important part of your game or you need more finishing power I would go with a Gearbox Pro, Legacy Pro, or Vatic Alchemy. (Should we ban the use of pro in pickleball paddle names?)
The elongated handle makes this paddle great for singles. You can still be aggressive and have the added reach.
Vatic V7 vs. Vatic Flash
Weight: 8.1-8.5 oz
Length: 16.5 Inches
Paddle Width: 7.5 Inches
Grip Length: 5.3 Inches
Tickness: 16mm
Face: T700 Carbon Fiber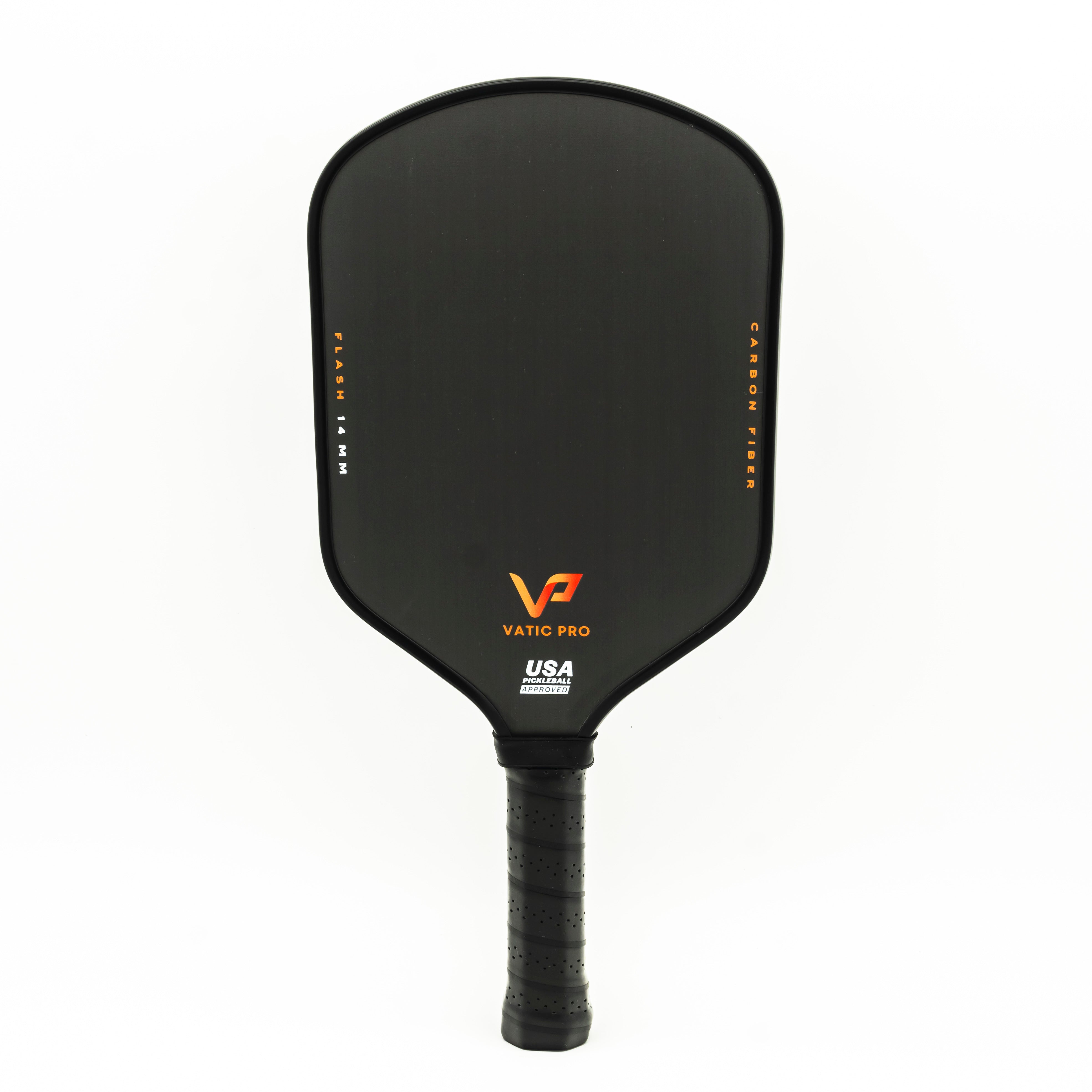 Weight: 7.8 - 8.0oz
Length: 16.3 Inches
Paddle Width: 7.7 Inches
Grip Length: 5.3 Inches
Tickness: 14 mm or 16mm
Face: T700 Carbon Fiber
Although both paddles perform similarly, there are some differences that really depend on what you're looking for in a paddle.
Power: If you want a paddle that has a lot of pop then the 14mm Vatic Flash is the only choice.
Control: The 16mm Flash and the Vatic v7 were very close. The V7 is slightly heavier and felt more stable, but the sweet spot feels a little bigger on the 16mm Flash. Overall I think the V7 offers more versatile control both around the net and when you're attacking.
Spin: They both generate unbelievable spin. All of these T-700 paddles provide such an advantage especially if you have your technique down. It's a tie between the two for spin.
Vatic Pro V7 VS. CRBN 1
Weight: 8.1-8.5 oz
Length: 16.5 Inches
Paddle Width: 7.5 Inches
Grip Length: 5.3 Inches
Tickness: 16mm
Face: T700 Carbon Fiber
Weight: 8.0 ounces
Length: 16.5 Inches
Paddle Width: 7.5 Inches
Grip Length: 5.5 Inches
Tickness: 13mm, 14 mm or 16mm
Face: T700 Carbon Fiber
CRBN's new power series is excellent, but for a much lower price, you can get a paddle like the Vatic Pro or the XS XSPAK that offers very similar performance and almost identical build quality.
The carbon fiber weave, elongated body and handle, and unibody construction look identical on both the Vatic V7 and the CRBN 1. Spin is high, and pop is good. The only reason you would probably prefer the CRBN is if you prefer a square/widebody paddle with a shorter handle
Drawbacks of the Vatic Pro
One drawback of the Vatic Pro is that after a lot of use, you may experience delamination issues. Some tell-tail signs of delamination issues are inconsistent and more springy feel and a louder clunkier sound.
Vatic does have a 90-day warranty for any defects and you get a new paddle free of charge. So if you do experience any delamination issues reach out to customer support.
Here is a video showing the results after a delaminated paddle by Tickle My Pickle:
UPDATE: Vatic is working on improving delamination issues. Daryl, the owner, stated;
"Vatic Pro has implemented a new manufacturing process that involves a new type of heat-resistant glue and application method to prevent delamination as best as possible. We use the highest quality materials and processes.
While we understand that delamination is a concern for customers, it only affects around 1% of all paddles sold. We also stand behind our products with our warranty and are confident that they will meet expectations."